FEATURES
High-Level Performance
Road Glide
Street Glide
100W RMS,450W MAX Power Handling
2-Way 1 inch 25mm Titanium Dome Tweeter Speaker System (Pair)
Flush Mount Design
Water Spray and Salt Water Resistant,100% UV Stable
Ultra Small Neodymium Motor Structure With Max Xmax Suspension
High Temp Injection Molded Composite Basket
Molded,UV-Coated,Patent Pending Waterproof Cone
Optional Remote Control – Part No. "DALEDLC"
Mounting Diameter: 6.38 x 9.33 in / 162 x 237 mm
Mounting Depth: 2.28" / 58mm
Grill is not included
SPECIFICATIONS
Nominal Diameter (inch/mm)6×9″ (152×229)
Description2-Way
Nominal Impedance (ohms)4Ω
Frequency Response60Hz-18KHz
Voice Coil Diameter (inch/mm)1.75 (44.7)
Power Handling (RMS/Peak)150/300
Fs-Free Air Resonance (Hz)70
Vas (Liter)0.698 (19.5)Qts0.78SPL (db)12dB
Mounting Diameter (inch/mm)8.64×6.0″ (219.5×152.5mm)
Mounting Depth3.15″ (80mm)
Grille OPTIONAL
WHAT'S INCLUDED
(1) Set of Lids
(1) Set of Speaker adapters
(1) Set of HXM69F4 speakers
Hardware and crossovers
WHAT'S NOT INCLUDED
Grills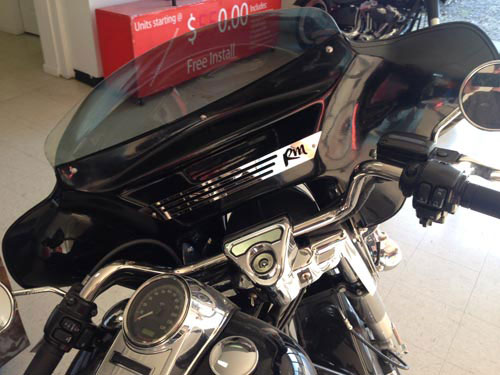 Feature Product of the Month- Reckless Motorcycles XS Fairing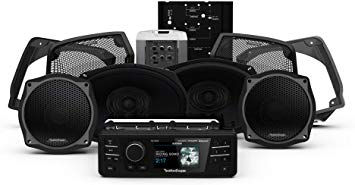 From Time to time we like to share good work from our community of professional installers. Next, you are going to watch one of the top installers from Rockford Fosgate install a stage 3 sound system on a 2019 Road Glide Special. Great info here and you will see how well this kit fits as well.
Give us a call or text at (423) 273-9746
We can help you find a budget for a better sound!
"if you know me, you know I love to do cool stuff for my friends, family and even people I don't know. When I see the right opportunity and just the right situation unfolding, I usually decide what I am going to do about it in my mind. I may or may not say or do anything but sometimes, I just can't resist. I know my boy Trino who I have known for about 35 years (from our hood) has a nice bike. I follow him on Instagram and seen him always out riding with the boys. One day after taking a trip out to Rockford Fosgate (back in June) and seeing all the big things they are doing in the Harley world, a light bulb in my head went off. I gave Trino a call while I was still out there and asked what he had (because I don't know much about Harley's). After speaking with my guys at RF, i decided that this might be my first ever bike install. I asked him (Trino) if he was interested in a free upgrade, so long as i can make a YT video of the install (and learn from it) and he said HELL YA! A month or so later after the NEWEST version was released, I received the package with everything I needed inside of it. I called my main man Greg Cobbs at Rockford to ask a few questions about the install and he totally volunteered to fly out and help me with it! It isn't really that complicated of an install but you do have to take the bike apart, which I have never done before. So I was happy to have him out to give me a hand (actually it was me giving him a hand) 😀 When I called him and asked if he was ready, he said "bro, my bike is an 18 and I the '19's are about to go on sale, I think I'm gonna get that so we can do this all the way NICE". 2 days later, he got the BRAND NEW 2019 Road Glide Special. He had a few parts put on it (a pipe, intake, etc) and we were ready to go. Greg flew in as promised and today, we got it done! I will be posting videos of the install (before and after) soon, but for now, here are a few pics. And YES, I did help. He showed me what to do and I did it. Including cutting up the rear bags for the by-nines".
You can see in these videos that somethings are better left to the experts at Extreme Motor Cycle Audio.
They have been installing audio for over 30 years and know all of the problems you will run into during an install like the one in the video.
It's good to know what's involved because you will have a better understanding of how your unit fits on your bike.
Call us today for a free consultation at
(423) 273-9746
We are located at
1227 W. 1st North St.
Morristown, Tennessee 37814
See our online store for great deals on audio for your bike!
https://extrememotorcycleaudio.com/product-category/motorcycle/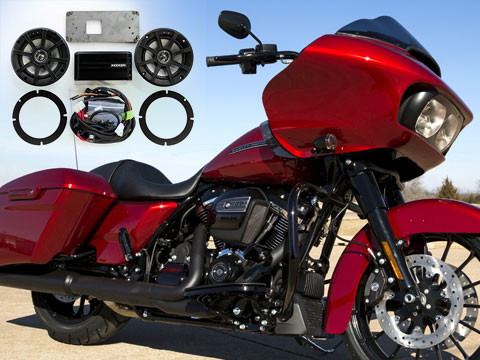 Seamless fit. Certified quality. Stunning Sound.
Simple Install – No Modification
KICKER delivers the thrill and musical accuracy of a live-concert experience. KICKER Motorcycle Audio Kits are high-performance audio created for your exact make and model of motorcycle. It's a high-powered system loud and clear enough to be heard over the road and wind noise, yet small enough to tuck away inside a fairing or saddlebag. It includes weather-proof, Powersports coaxial speakers and a compact amplifier, with a 100% plug-and-play wiring harness for easy installation.

You will love it because it offers:

No cutting or drilling – it mounts and plugs directly into factory locations
Seamless integration with the factory radio – no need for an aftermarket head unit
Minimum impact on your motorcycle's charging system
An integrated, original factory look
KICKER-tuned for premium sound
2-Year Warranty (parts only) when purchased from an Authorized KICKER Dealer